Toward One Wisconsin 2023 Conference attendees can book a room at the conference location, the Appleton Paper Valley Hilton. The room rate is $90 for a single room and $119 for a double room.
Please call  920-733-8000 and choose option #1 to make reservations.  Ask for the Toward One WI Conf group block. (f you call Monday-Friday from 8am-4pm, you will speak directly to in-house staff.  If you call outside of these hours, you will speak with Hilton reservations.
Visit appletonpapervalley.hilton.com and choose the conference dates and number of people in your room and enter the following group code TOW to receive the group rate. The group code gets entered under the special rates button and then hit search.
Click here to reserve a room online.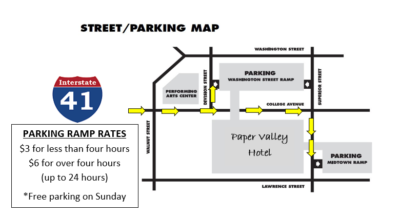 HOW DOES THE CITY OWNED COVERED PARKING RAMP WORK?
Option 1) Pay as you exit the parking ramp (cheaper if staying parked or leaving infrequently)
• $6 for every 24 hours you stay parked in the ramp. Pay in ramp each time you exit.
Option 2) Paid validation for guests with hotel room in Red/Midtown Ramp only (best if leaving ramp multiple times every day or for convenience)
• $10 per night for unlimited in/out privileges (good for 24 hours)
• Insert to leave ramp. Scan same ticket to re-enter ramp.
DO NOT LOSE YOUR TICKET There is a $50 charge for lost tickets. Hotel is not responsible.
Height clearance on Midtown Ramp is 6'10'' and on Washington Street Ramp is 7'4''
HOW DOES CITY OWNED METERED STREET PARKING WORK?
On-street meters are $1.00 per hour with a 2-hour limit 9am-6pm Mon-Sat.
Free parking at most meters Mon-Sat after 6pm until 2am AND between 5am and 9am. City ordinance prohibits street parking between the hours of 2am and 5am.
Meter bags can be arranged through the hotel's front desk (920-733-8000) for $15 each per day (for tall or longer vehicles that do not fit in the ramp and for motorcycles).
For additional questions about parking or the conference venue, contact the Hilton Appleton Paper Valley Hotel: (920) 733-8000.