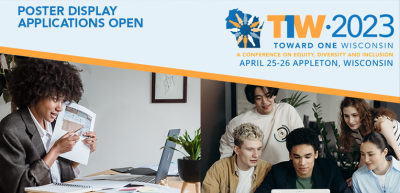 The 2023 Toward One Wisconsin Conference, held in Appleton on April 25-26, is accepting applications for virtual poster presentations. Virtual poster sessions provide presenters an opportunity to engage with attendees and present information about their organization, program, research, or best practices.
The virtual poster sessions will take place the morning of Monday, April 24, via Zoom. Presentations will be approximately 60 minutes in length and presenters can display their information with a slide deck, pdf, flier or other graphic platform.
Poster presentation topics should be related to the four conference tracks:
Workforce Track: Increasing Opportunities for Inclusion in Wisconsin's Workforce
Community Track: Creating Inclusive Communities in Wisconsin
Education Track: Cultivating Equity in Education
Health Track: Building Health Equity in Wisconsin
Applications are due March 15. To learn more and apply, visit t1w.org.
About Toward One Wisconsin
The Toward One Wisconsin Conference began with a mission to foster and sustain a statewide culture that understands that diversity, equity and inclusion are essential to the state's continued excellence. Since the first conference in 2019, T1W has brought together thousands of attendees from diverse backgrounds to have broad ranging conversations around the work of DEI and how to move from talk to action.