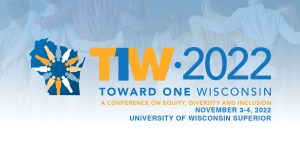 Join us this November at UW-Superior for T1W 2022
The Wisconsin Institute for Public Policy and Service announced that the fourth annual Toward One Wisconsin Conference on Equity, Diversity and Inclusion will be held November 3-4, 2022, at the University of Wisconsin–Superior. Join us this November for:
Toward One Wisconsin 2022: A Conference on Equity, Diversity and Inclusion
Theme: Where are we Going? How do we Continue?
Pre-Conference Bus Trip
November 3, 2022 | 12:00 – 4:30 P.M., Tentative
Conference
November 4, 2022 | 8:30 A.M. – 4:30 P.M.
In person or Hybrid Keynote Speakers
University of Wisconsin–Superior
The Toward One Wisconsin Conference prioritizes the work of diversity, equity, inclusion and access throughout Wisconsin by encouraging community members to collaborate, share, and learn. Attendees will learn best practices, insights, and implementation tools to foster and sustain an equitable, diverse and inclusive culture across all sectors of business and life.
"We're excited to continue the conference for its fourth year in Superior," said Eric Giordano, WIPPS executive director. "It has been great to collaborate with engaged and passionate individuals, such as our conference partners from UW-Superior and the Twin Ports community."
The conference is open to anyone interested in learning more about equity, diversity, and inclusion. Previous conferences have been attended by representatives from a wide range of fields, including education, academia, private business and industry, government, non-profit organizations, community associations, and faith-based groups.
Call for proposals are open – Share your expertise!
We invite presenters to submit proposals that include collaborative and innovative approaches, best practices, cutting edge research, and/or success stories that connect to the conference theme, "Where do we start and how do we continue".
Conference sessions are scheduled throughout the day on Friday, November 4, 2022. Each session will be 60 minutes. Call for proposals will be open until September 2.
To submit or a proposal or to learn more about the conference, please visit: https://inclusivity-wi.org/uws.