Apply to Present at the Preconference Virtual Poster Session
Submission Requirements: Applications are being accepted for virtual poster displays. Applications will be accepted until March 15, 2023.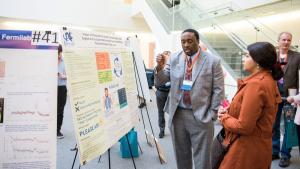 Virtual Poster Display Opportunity: A virtual poster session is an opportunity for conference attendees to present virtually during specific times at the conference. during a time slot on the day before the in-person conference. Virtual Sessions:
Offer an opportunity to engage with other conference attendees who are interested in your topic.
Allow you to receive feedback from attendees about your topic that may lead to future collaboration.
Allow presenters a chance to share work in a short interactive format.
Provide a platform for more extended discussion (within time constraints).
Offer time to discuss specific aspects of your research/work and receive detailed critiques, and impartial discussion/review by peers.
Allow you to explain your research/work differently. For instance, you can present as short as a few minutes but can go up to 15-20 minutes.
Virtual Poster Session Purpose: The poster display should be about a collaborative and innovative project, a best practice, innovative research, and/or success stories that relate to the following Tracks:
Workforce Track: Increasing Opportunities for Inclusion in Wisconsin's Workforce
Community Track: Creating Inclusive Communities in Wisconsin
Education Track: Cultivating Equity in Education
Health Track: Building Health Equity in Wisconsin
Details: The overall virtual poster session will be 60 minutes in length and will occur on the morning of Monday, April 24. Past presenters typically display their information using PowerPoint, a PDF, flier, or some other graphic platform. Presenters will be assigned a time to join a Zoom breakout room. At the designated start time, virtual attendees can select a room to enter and stay as long as they like and leave to visit other virtual sessions. Your name, organization, presentation title, and description will be listed in the conference agenda.
Conference Registration Fee: All presenters will be required to pay the presenter conference registration fee of $100. This will grant access to all conference events either virtually or in-person. Conference registration scholarships are available upon request if needed.
Registration Requirements: Please click on the link below or scan the QR code to complete the application. Sessions will be selected based on their relevance to the conference theme. The following information will be required when you register:
Title: The title is important to help promote your work. The title should make conference attendees want to visit your presentation on zoom. The title should be short and comprehensive. The title is your equivalent of a newspaper headline—short, sharp, and compelling.
Description: The description will describe the nature and intent of the work being presented. Some questions you might ask when preparing your presentation description include: What do you want the person logging into zoom to experience? How will you succinctly present your content? How will you engage virtual attendees in a discussion about the content? The description must be 150 words or less.
Contact Information: Please add your contact information so details about the display can be emailed to you and your name can be listed in the conference program.
Questions: If you have any questions, feel free to contact Sharon Hunter, Conference Coordinator, at [email protected].