Apply to present a digital poster display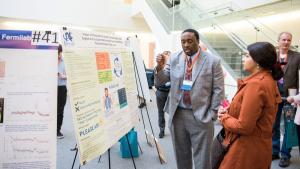 Submission Requirements: Applications will be accepted until 30 digital and/or poster display applications are accepted for each day of the conference. Applications will be accepted on a rolling basis.
Digital Display Opportunity: A poster display is an opportunity for conference attendees to display and present a digital display during specific times at the conference. Displays can:
Offer the opportunity to engage with other conference attendees interested in the same subject as yourself.
Provide an opportunity to strike up a conversation with someone about your poster that may lead to future collaboration.
Actively engages you with others in one-on-one conversations in a way that networking alone does not, since by its very nature the poster defines the topic of conversation.
Provoke an insightful, impartial discussion of your work with a peer.
Digital Display Purpose: The digital display should be about a collaborative and innovative project, a best practice, cutting edge research, and/or success stories that relate to the following Tracks:
Track I: Increasing Opportunities for Inclusion in Wisconsin's Workforce
Track II: Creating Inclusive Communities in Wisconsin
Track III: Cultivating Equity in Education
Track IV: Building Health Equity in Wisconsin
Details: The virtual poster display will occur during 30 minute break times on Tuesday and Wednesday, October 12-13, 2021. Presenters will be assigned a time to present their digital poster display. All presenters will be required to pay the presenter conference registration fee of $100. Your name, organization, display title, and description will be listed in the conference agenda.
For more specific details please click on:
Electronic poster presentations are to be uploaded as a PDF file to the Whova App prior to the conference. The final deadline for uploading your digital conference posters is October 4, 2021.

Instructions to upload the PDF digital poster presentation to the Whova App will be provided when you are notified your display has been accepted and are registered as a conference attendee.

The electronic presentation will be available on Whova for viewing one week before the conference, during the two day conference, and up to 60 days after the conference via the Whova App.
Questions about these requirements should be directed to shunter@uwsa.edu or info@wipps.org or by calling 715-261-6104.
Registration Requirements: Please click on the Digital Display Application to apply to display. Displays will be selected based on their relevance to the conference theme. The following information will be required when you register:
Title: The title is important to help promote your work. The title should make conference attendees want to come and visit your display. The title should be short and comprehensive to a broad audience. The title is your equivalent of a newspaper headline—short, sharp, and compelling.
Description: The description will describe the nature and intent of the work being presented.  Some questions you might ask when preparing your display could include: What do you want the person passing by to experience? Engage in a discussion about the content? Learn enough to try to implement your project at their organization? Want to collaborate? The description must be 150 words or less.
Contact Information: Your contact information so details about the display can be emailed to you and your name can be listed in the conference program.
Questions: If you have any questions, feel free to contact Sharon Hunter, Conference Coordinator, at 715-261-6104 or shunter@uwsa.edu.